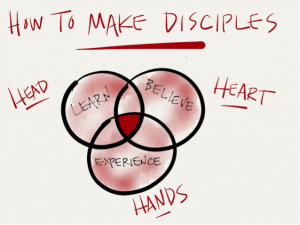 We believe that when Jesus said 'Go and make disciples of all nations' (Matt 28:19) that he was serious! He's the one who, as the risen Lord of the universe,  has been given ALL authority – so CU is on about making Disciples of Jesus who will make more Disciples of Jesus.
How we do that looks a bit like this…
Head – We need to know God, know the great things that Jesus has done for us and know what desires for His world. So, in our groups, a big part of what we do is read the Bible together and learn these great and amazing truths together. Only the Bible contains this precious knowledge.
Heart – Learning is great – but Christianity is not about knowing facts, it's about believing great truths, and when we believe such great truths, it actually changes what we love. In our discipleship groups we want to let that Head knowledge become heart knowledge causing us to love Jesus because he has first loved us.
Hands – Jesus said that 'It is out of the heart that the mouth speaks' (Luke 6:45). If in our hearts we love Jesus and the great news of the Gospel then we won't be able to help speaking about him. That's why our Discipleship groups have a 3 in 1 out model. We spend 2 weeks together reading and praying and then on the 4th week we do something evangelistic. You can be really creative – host a question dinner, have a sports night, invite people to a movie night etc. Let's prayerfully and practically be does of the word!
We'll be forming and kicking off our Semester 2 groups in week 2. The aim is to have everyone in CU meeting in groups discipling one another.  This Semester we'll be using a book to help us go through the book of Hebrews. This will be an invaluable time in God's word understanding the importance and climactic events of Jesus.
If you'd like to join a group please let us know when you are free to meet by filling out the following form…