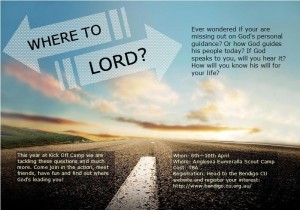 Ever wondered if you are missing out on God's personal guidance? Or how God guides his people today? If God speaks to you, will you hear it? How will you know his will for your life?
This year at Kick Off Camp, we are tackling these questions and many more. Come, join in the action, meet friends, have fun and find out where God is leading you!
Topic: Guidance from God.
Date: Friday 8th to Sunday 10th April 2011.
Venue: Eumeralla Scout Camp, Anglesea (click here for guidance!).
Cost: $65 for CU members, $70 for non-members. Register below.