Paul wrote these words to his apprentice Timothy –
   Do your best to present yourself to God as one approved, a workman who does not need to be ashamed and who correctly handles the word of truth.
It is the aim of this post to give you some practical tips on how to start or develop your personal study of God's word.
Firstly what you need…
1) A Good Bible.
If you're going to read the Bible you'll need to get one – but which one?
There are a range of translations of the Bible – so which one should you choose? The following picture shows the range of translations available today…

Translations differ because some aim to be closer to the original text (Hebrew OT, Greek NT) in terms of sentence structure and word order, while others aim to be more readable for the 21st century reader. Personally I use the ESV for preaching from and the NIV or the HSCB for personal devotions.
Apart from the translation why not think about getting a Bible with wide margins so you have room to write your own notes. This way you won't lose insights you gained. Also Bible's with 'cross reference's' are great to help you see where the author may be quoting from elsewhere in the Bible, or if you want to chase down a similar word or theme in another part of the Bible.
Study Bibles are popular, but they may do too much work for you. Due to lack of space, their information is often too limited, and as your eyes gaze down to the 'notes', you can bypass the process of really reading what God has inspired.[1]
2) Studying the Bible
There are two main ways that you can start to study the Bible. You can either simply start reading a section of the Bible and then seek to understand it by asking questions, or you can use a prepared study book with questions to guide you. if using prepared study books – both Matthias Media and The Good Book Company have great study books to help you.
1) The COMA Method
Context – 􏰀Observation – Meaning – Application
This is really a summary of how we read anything. Even when we pick up a newspaper article, we notice what sort of thing we are reading and how it fits with other things around it (context); we read the words and sentence and paragraphs, taking note of the main events, people and content (observation); we integrate what we've observed in our heads and form a conclusion about what the author is trying to say (meaning); and we reflect on whether the author's message has any relevance for our lives (application)
It can be very useful to follow the COMA process consciously when reading the Bible because it encourages us to ask good questions of the passage and to understand it clearly and thoroughly. When we're reading the Bible with someone else, it also very helpfully directs the conversation. You can work through the four steps and come to some conclusions, rather than bouncing around with lots of different random thoughts or observations.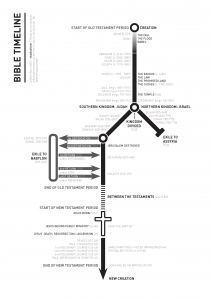 Here is one way the method can be used:
Read the passage aloud
Ask some context questions of the passage:

What sort of writing is this? (a letter, a poem, a narrative etc?)
Where does this book fit in the whole narrative of the Bible? (e.g before or after Jesus)
Are there any clues about the circumstances under which it was written?
What has happened so far in this particular book of the Bible?

Some observation questions of the passage:

Are there any major sub-sections or breaks in the passage?
What is the main point or points?
What surprises are there?
What are the key words? What words or ideas are repeated?

Some meaning questions of the text:

How does this passage relate to other parts of the book?
How does the passage relate to Jesus?
What does this teach us about God?
How could we sum up the meaning of this passage in our own words?

Some application questions of the passage:

How does this passage challenge (or confirm) your understanding?
Is there some attitude I need to change?
How does this passage call on me to change the way I live?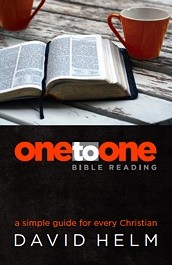 David Helm's One to One Bible Reading explains this method in further detail. You can download some genre specific questions here.

3) Getting Started…
You may be reading on your own or meeting with someone 'one2one' to read the Bible. If you're new to reading the Bible I recommend reading a Gospel like Mark or Luke, then a Letter like Colossians or Romans. These books are an easy and accessible starting point. Remember it's always best to read through books of Bible or larger sections rather than jumping around from verse to verse. God speaks through His Word in an ordered way, by reading through books of the Bible we hear God's word as He has ordered it, and it's remarkable how relevant you'll find it!
At CU we are currently using The Good Book Company's guides in Colossians and Ephesians for our Discipleship groups and One2One's.
For personal devotions I thought I'd let you know about two really good devotional Apps you can get on your smartphone so you can start the day with Jesus.
1) Standfirm – A daily devotional developed by AFES workers for Christian University Students. It works through the whole Bible in 3 years and has specific application for Australian Uni Students!  http://standfirm.org.au
2) A Year With Jesus – Developed by some guys in Sydney – this devotional takes you through the book of Matthew over a whole year. Really slows you down as you read and has great explanation and application wherever you're at in life.
Apple – https://itunes.apple.com/…/…/a-year-with-jesus/id1073277946…
Other Tools for the Tool Kit…
BIBLE DICTIONARY'S
Bible Dictionary's provide valuable background and define unfamiliar terms. The New Bible Dictionary is highly recommended.
BIBLE COMMENTARIES
Bible Commentaries are the result of other peoples 'hard study' and offer insights into the meaning and interpretation of the Bible text. These books can be very useful – but can also be abused. Don't use them too soon after your reading of the Bible; pray and write out your own observations and applications. Going to commentaries too quickly is a lazy habit that won"t help you become confident with your own reading of God"s Word!
With that warning, a good single volume commentary covering the whole Bible is The New Bible Commentary (IVP). Alternatively 'The Bible Speaks Today' is a great series with commentries on each book of the Bible.
BIBLE ATLAS
Geography has an important influence on history. A good atlas can help you understand the context of what you are reading. Many Bible atlases have helpful photos which add to your interest and retention of information. A good one is the the Student's Bible Atlas.
[1] If you go straight to the 'notes' in a "Study Bible" during a Bible Study Group, it can kill further discussion and independent thought. It has a similar negative effect in personal Bible study. Also note that 2 Timothy 3:16 says "all Scripture is God- breathed…" – not "all commentary footnotes"!