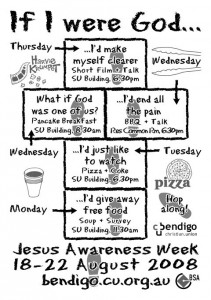 Would you like to hear the message of Christianity explained clearly? Do you have questions about life, religion or God? Or do you have a friend who would like to know more?
18-22 August 2008: During this week we will be running events around the theme:
"If I were God…"
"…I'd give away free food". Monday: Come to the Student Union (SU) Building from 11.30am for soup and join the discussion in our worldviews survey.
"…but I am God". Tuesday: Music and a short address around midday in the SU.
"…I'd just like to watch". Tuesday: "If God is there, he doesn't seem very involved". Pizza, Coke and a discussion on this topic in the SU from 6.30pm.
"What if God was one of us?". Wednesday: Joan Osbourne wrote the song but perhaps you're wondering about the significance of this question too. Come along for a pancake breakfast in the SU from 8.30am.
"…I'd end all the pain". Can Christianity address the issue of suffering? Join the discussion around the BBQ at the Residential Common Room from 6.30pm.
"…I'd make myself clearer". Is God there? If so, would the real God please stand up? A reflection on these questions and the Academy Award-winning short film Harvie Krumpet in the SU from 6.30pm.
If you like more information about these events, please contact us.