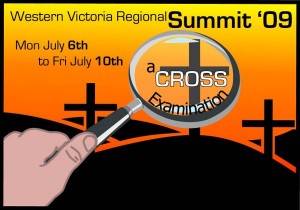 REGISTRATION CLOSED
If you still would really like to come, email the address below.
The death of Jesus is central to the Christian faith. Sadly, in recent years, what it means and what it achieves is being disputed such that it threatens to divide the Christian world. We therefore need to understand what God says about the cross and the only way to do that is to go to his word, the Bible. So come spend an intensive week studying this crucial topic!
Summit is a unique learning experience using five different teaching modes: night talks; discussion groups on what the cross achieved; seminars investigating most of the New Testament references to the cross; self-discovery groups and elective workshops. Uni and TAFE students from Ballarat, Bendigo and Geelong will be there and you are bound to make new friends.
"Summit is a great chance to learn more about God and be encouraged with other Christians. I would definitely advise people to go. Last year I enjoyed the small group Bible studies and the games night the most." (Megan Gellert, ACU)
Topic: The Cross.
Date: Monday 6th to Friday 10th July 2009.
Venue: Norval Lodge, Halls Gap (map).
Cost: $185; late rego $195; Discounts: $5 off for first-timers or CU members. $50 deposit required by close of registration (pay to campus treasurer).
Registrations: close Monday 22nd June; late regos accepted until Monday 29th June.
Fun Night Theme: Around the world in a day (wear something from another culture).
Questions? camps@bendigo.cu.org.au