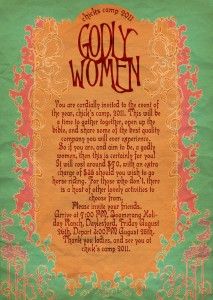 What does the Bible say about being a godly woman? Join us and our special guest speaker Mel Hawkes as we look at this over a weekend.
When: 26th-28th August
Where: Boomerang Ranch, near Daylesford (map)
Cost: $70 (plus $35 if you would like to go horse riding).
Bring: Bible, pen, a plate of snacks to share for morning/afternoon tea, sleeping gear, toiletries, clothes (including if going horse riding) etc
Registrations: by 19th August to secure your place.
Questions? camps@bendigo.cu.org.au or see your campus leaders.