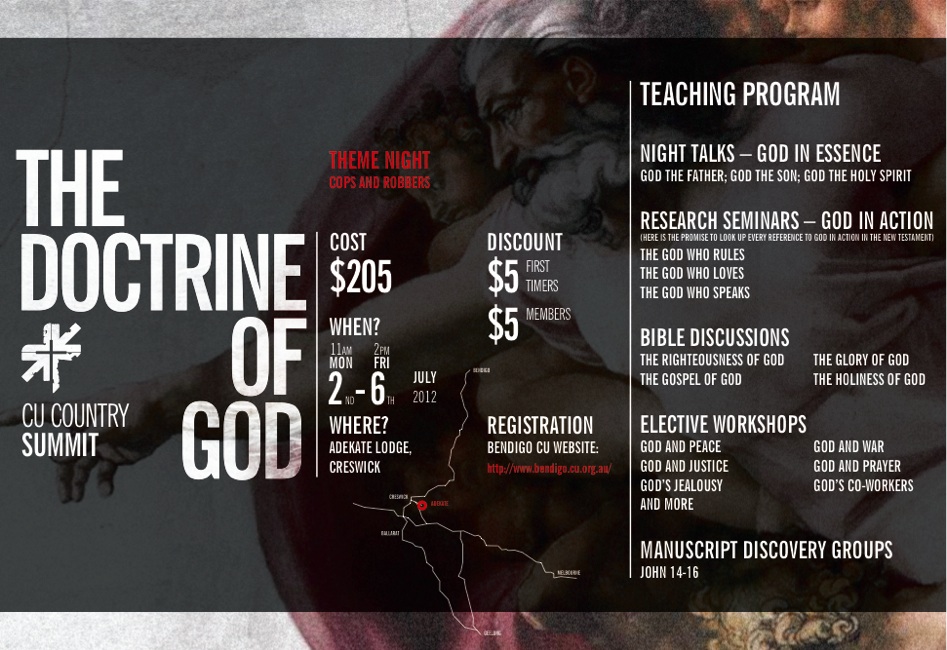 Summit is a unique learning experience using five different teaching modes: night talks on the Trinity; discussion groups on the character of God; seminars investigating the activity of God; manuscript discovery groups focusing on one key passage (John 14-16) and elective workshops. Uni and TAFE students from Ballarat, Bendigo and Geelong will be there and you are bound to make new friends.
Topic: The Doctrine of God.
Date: 11am Monday 2nd to 2pm Friday 6th July 2012.
Venue: Adekate Lodge, Creswick (map).
Cost: $205; late rego $210; Discounts: $5 off for first-timers, $5 off for CU members. $50 deposit required by close of registration (pay to campus treasurer or online – see below).
Registrations: close Monday 18th June; late regos accepted until Monday 25th June.
Fun Night Theme: Cops and Robbers.
Questions? camps@bendigo.cu.org.au
Registration
Pay online. Complete the form, for a once only payment, selecting CU Country Summit (under Worker) and include one of the following amounts:

$205: Full registration
$200: First time or CU Member
$195: First time and CU Member
Notes
Online payment available for full time campers only. Part time registrations need to be paid in person at a CU meeting or at camp.
Online payment is made through the AFES donation page.