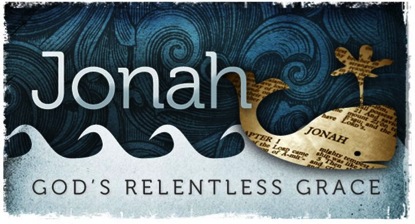 CU will launch into Semester 2 with 4 weeks in the book of Jonah at our Wednesday night Gospel Gatherings. 'Why Jonah?' you might ask. What could the story of a man and a fish 800 years before Jesus have to do with us at Uni today? Well I'd say more than you might think.
Although we probably all know the story of Jonah (how Jonah refused God's call and ended up inside a huge fish) I think most of us miss two big things. Firstly we get so puzzled by Jonah and what he does that we fail to see that we are so often just like him. Secondly, we get so focused on the great fish that we miss the fact that Jonah is a story not about a man and a very great fish but about all men and a very gracious God.
As we look at Jonah together we'll get to know him to be a man just like us. We'll see that Jonah, like us, lives among pagans who know next to nothing about God. We'll see that, like us, Jonah is called to speak God's message yet he's a terribly reluctant evangelist – we'll take time to consider why. We'll be encouraged as we see pagan sailors and city-dwellers repent. Yet all along we'll be challenged about how we view those who don't know God, particularly as we reach the last climactic cliff-hanger of a question.
Most importantly we will see that Jonah is about God. It's a story about our God who relentlessly works to extend his grace. In Jonah we meet the God
who extends great grace towards 'outsiders', and exercises great patience with 'insiders'. We meet the God who is the most committed evangelist of all, the God who sent his own Son to become the man Jesus – Jesus who spoke of Jonah's experiences to explain his own death and resurrection.
As we open up the book of Jonah we'll discover more of the amazing character of our God, and I pray we'll be encouraged to share the heart of the greatest evangelist—the Lord Jesus Himself. Why not take 20 minutes now and read through this great part of God's word for yourself?